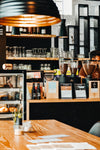 There are several public health campaigns running at the moment, each of which encourages us to take some sort of time out, and time off, the booze. 
Indeed I myself heard two different ads, for two different campaigns, in one radio ad break only this week.  One suggested we should have an 'alcoholiday' for at least a couple of days a week, in order to give our liver and kidneys the chance to recover; the other challenging us to take the entire month of October off the grog, and "go sober for October", partly for our own benefit… and partly to raise money for charity.
Of course, this is all very laudable but where does that leave the poor old punters, navigating their way through the working week via those weigh points formed of such social buoys as the post-work gin & tonic, or Friday lunchtime social with the team? 
Indeed, where does it leave the operators of licensed premises, with their clientele seemingly set to abandon them, perhaps for an entire month?
Well, the good news is that the range of non-alcoholic beverages on offer, even at the most local of humble neighbourhood pubs, is now much more developed than it has ever been.  Or perhaps that should be… ever bean… for coffee is now also a staple of many pubs and bars across the land, with coffee sales up by nearly a fifth in UK's licensed premises. 
If you run a pub or bar and are yet to include this as an offer within your own business, this article will help teach you about some of the things you should be looking at, before you lease or purchase a machine for your own business.
Coffee machines are a growth area for pubs, especially if you are open in the morning and cater to a pre-lunchtime clientele. 
We are all drinking more and more coffee and it is extremely easy, and simple, for you to divert some of this lust for caffeine out of those anodyne identikit coffee chain stores, and into your own establishment.  But what coffee machine would suit you and your premises?
Firstly, consider your business, in terms of both the venue you have and the clientele that you attract.  Be honest – are you an upmarket gastropub, or more the down-to-earth, spit-and-sawdust pub so beloved in this country? 
What are you serving up?  Artisan, locally-sourced fare… or the basic staples of nuts and crisps?  Consider that first, along with how busy your trade is, and how quickly you need to get your customers served, and that will start to inform the right choice for you.
Dealing first with perhaps the more basic end of the market, a 'bean-to-cup' coffee machine is the entry-level device.  It's not like instant coffee, in that you still use coffee beans, but these are ground as they are used, ensuring the coffee tastes fresh and your customer is both satiated and satisfied. 
Easy to use, these models still look – and sound – the part, quickly creating the perfect espresso, latte and cappuccino, ensuring your customers are served swiftly and there is also a quick turnaround at the bar.  Have a look at the bean-to-cup range from Coffee Seller available to buy or lease, including brands such as Franke, Jura, Carimali and Bravilor.
At the other end of the market, and if your establishment is more 'top end', your customers might expect more of a bespoke, Barista experience.  In that case, you will need to be looking at a premium espresso machine. 
These machines may require a little training, to bring your staff up to scratch, but when they know their way around, the results will be the perfect hand-crafted coffee, every time.  Of course, they also look fabulous – elegant, stylish and as much an aesthetic addition to your pub or bar as the countertops and décor.  Naturally, that comes with an attendant price, but have a look at models such as the La Spaziale S8 Traditional Espresso Machine or the Expobar Zircon Pulsar 2, and you can see that these machines are truly gorgeous, as well as functional.
One of our sales managers will be happy to talk you through your options if you want to lease a commercial coffee machine for your licensed premises.  But the key thing is, indeed, to get on… that way you can still appeal to your regulars, even if they're going sober for October. 
For more information about leasing a commercial coffee machine for your pub or bar, speak to a member of the Coffee Seller team today. Call: 0800 035 5584.